Helping IT departments embrace change even when they're already overwhelmed // Xperts Tips Series
90% of Centerity's customers would recommend other companies to use Centerity's solution.

Centerity's satisfaction surveys, 2017
To support business growth David's company, a manufacturer in the IT industry, recently upgraded a lot of equipment by adding more sensors, IoT devices, new applications, and other operational technologies. For most companies this process takes a long time because each piece of technology needs to be individually configured and adjusted, and IT managers need to figure out how to monitor it and assign alert thresholds. However, Centerity allowed David's IT department to quickly embrace all these technology changes. As an all-in-one BSM Platform, Centerity has pre-defined integrations with hundreds of applications and technologies that allow automated discovery, connection, and configuration of IT components, so they did not have to buy any new monitoring solutions/modules.
David's example shows a different approach to managing technology change. IT departments need to monitor traditional and legacy IT layers that interact with newer IoT and other operational technologies but they also need to ensure their IT backbone remains stable. Often they struggle to figure how to extract the information from their IT/OT/IoT assets, how to normalize the different data they receive from various sensors and asset types, how to recognize and troubleshoot problems, and how to improve communication of IT faults.
This is a challenge because today's business technology environments include operational assets sharing data with applications and business processes that run on premise and in the cloud. With all the cross-layer and cross-functional connections and data exchange going on, it's critical for someone to know how these different IT/OT elements are related, how they communicate, and how to organize and extract meaningful data so that decision makers know what to do with the information.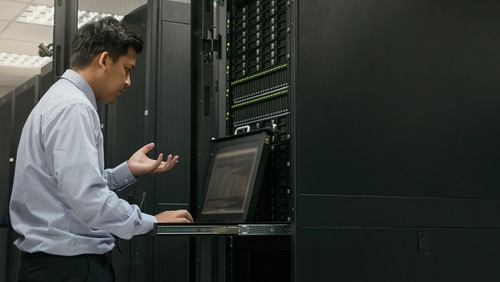 This is where Centerity's BSM platform comes in. With Centerity's unified technology performance monitoring platform, businesses recognize and resolve problems faster. Organizations can automatically collect key performance indicators (KPIs) across the entire IT stack, analyze it and know how to use it to optimize service levels (SLAs). Centerity is designed around business services, so companies can easily define their core business processes and identify how they want to manage the technology elements that make that process run. With automated discovery of IT/OT topologies and dependencies, new components can be quickly identified, configured, and incorporated into the appropriate business services allowing enterprises and service providers to eliminate long upgrade cycles, customizations, and roll-outs.
Centerity's unique approach to BSM is reflected in the licensing model, which also supports David's rapid deployment. Compared to other vendors that require new licenses and modules to be purchased before replacing something like the database management system, Centerity's all-in-one pricing allows David's company to simply increase their KPI count (or reallocate old KPIs) to cover the new components, with no cost-escalation related to the type of device or application that was added. Because Centerity's licensing model is based on number of KPIs used and not on devices, it does not matter if David's company needed to integrate with a new database, storage, communication equipment, or cloud.
In this way Centerity's unified BSM performance platform brings companies a competitive advantage and reduces costs. If you have further questions about how to improve your business monitoring, performance, or costs, Pls feel free to contact me