The ill-defined "fog" or "edge" part of the network between devices where data comes from and the cloud needs some serious upgrading. The insane amount of data that IoT / IIoT generates puts a strain on these networks, requiring devices to become smarter.  Our partners at Cisco and Dell EMC understand this and are working towards smarter IoT Edge devices. These devices are a combination of server and gateway technologies.  The tremendous need for business intelligence with the increasing computation, storage, and networking capabilities now available will see edge-based analytics become a critical element of success for IoT/IIoT.
What can we expect in 2018?
Edge computing will create many new use case scenarios for IIoT (Industrial IoT).  The critical combination of "the edge" metrics or Operational Technologies ("OT") and with Information Technologies ("IT") to drive critical business outcomes is driving its evolution. So, it only makes sense that Edge Computing will "come of age" in 2017 by having a business impact and delivering business value.
What's Centerity's Contribution to this Evolution?
Centerity Systems' contribution to this "coming of age" is in viewing any network component, not as a single device, but as a part of a business solution.  Centerity had always supported IoT / IIoT devices in various ways, including performance metric collection across different device types, vendors, communication platforms and protocols, but the most significant contribution has always been the systemic and process views created by our Business Service Management (BSM) capabilities providing a single-pane-of-glass for all of the IoT / IIoT components.  The use of these components, ranging from sensors, actuators, and thermostats to cameras, locks and CRAC/HVAC units will experience dramatic growth and as they grow so will our coverage profile.  This OT information correlated with IT information will create the business value transformation necessary for the Edge Transformation in 2017!  Centerity can support this transformation now.
Interested in more information? View more of Centerity's solution for IoT/IIot
Download IoT/IIoT Solution Solution Brief from Centerity Resources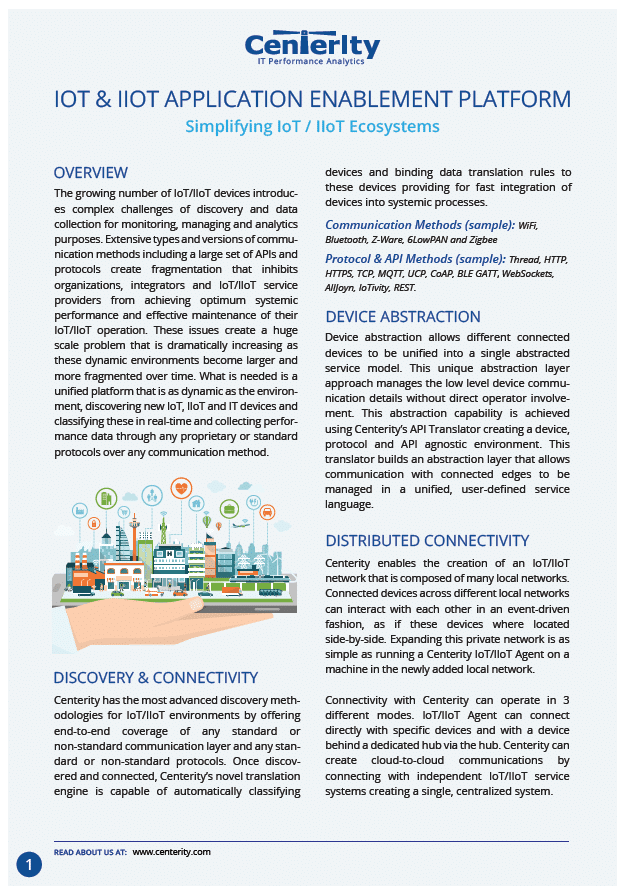 About Centerity
Centerity's an award winning unified enterprise-class IT Performance Analytics Platform that improves Performance and Reliability of business services to ensure availability of critical systems. By delivering a consolidated view across all layers of the technology stack, including, applications, big data, operating systems, database, storage, compute, security, networking, cloud, edge AND IoT/IIoT devices, Centerity provides an early warning of performance issues along with corrective action tools to quickly isolate faults and identify root causes.
https://www.centerity.com/wp-content/uploads/2021/02/Centerity-dash-on-computer-730-x-480_0008_Layer-7.jpg
789
1200
Marty Pejko
https://www.centerity.com/wp-content/uploads/2022/01/Centerity-Logo-1.png
Marty Pejko
2017-01-20 16:22:25
2021-02-26 13:25:51
How will the Edge of IoT/IIoT transform in 2018