Traffic Makes Everything Go Slower – Learn How to Keep Critical Processes in the Fast Lane
The volume of network traffic continues to increase, which impacts the performance of applications and system components, reduces service levels, harms the user experience, and results in poor operational metrics and longer downtimes. To understand why the business is suffering network analysts must question and research dozens of possible causes, often coming away with no concrete resolution.
Centerity Traffic Analyzer resolves these issues by identifying those resources that are hogging bandwidth. Traffic Analyzer is a next generation solution for network flow analytics that is compatible with all major device types using NetFlow, Jflow, sFlow and IPFIX.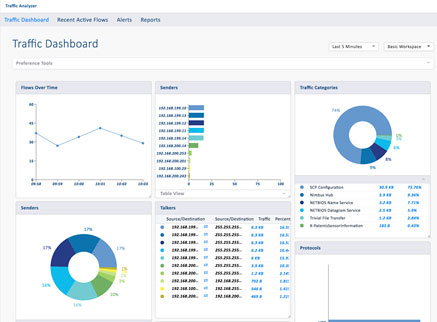 Traffic Analyzer offers each user a custom, flexible dashboard featuring popular extensions such as flows over time, top talkers, senders, countries and more.
Traffic Analyzer helps network architects to easily discover any endpoints that are driving high network utilization.
Network managers can drill down and analyze recent flows, filtered by application, packets, protocols, and more.
Traffic Analyzer strengthens network security and oversight with instant visibility to high bandwidth usage and alarms that can be triggered by traffic, unauthorized ports, protocols or incorrect traffic locations.
Users can create functional reports according to company needs with flexible formatting and configuration.
Traffic Analyzer improves business SLAs, by incorporating network traffic analytics with BSM, providing drill-down directly from business service data.
Centerity Traffic Analyzer is highly scalable and can be deployed with centralized management, consolidating network data flows from thousands of data sources in dozens of locations.
While network traffic analysis tools are not new to the market, Centerity Traffic Analyzer brings a new level of performance and scalability to support the latest hybrid networks and big data environments. By delivering immediate, substantial benefits, Traffic Analyzer allows organizations to quickly identify network problems and isolate security risks in real time. Combining Traffic Analyzer with Centerity's BSM platform allows our customers to further expand their top-line and bottom-line results, including reduced downtime, faster mean-time-to-restore (MTTR), and fewer service emergencies, which improves their ability to achieve P&L and generate new business.
Here's a short video to learn more about how Traffic Analyzer helps business to become better, smarter and faster