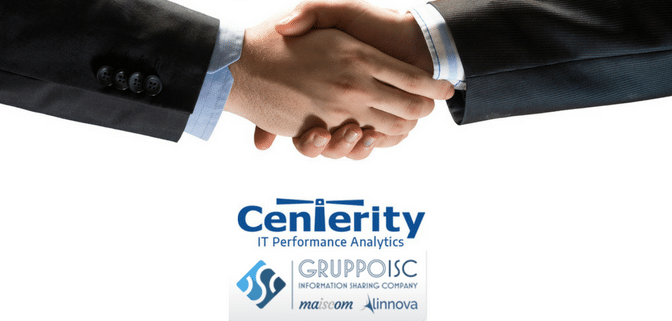 Centerity Systems Inc., the leading provider of unified IT performance analytics and business service management solutions, entered into a partnership with Information Sharing Company (ISC), Italy's leader in data management & integration.
Enterprises that adopt the use of Performance Analytics software solution for managing their IT environment need the ability to identify adverse effects on the performance and reliability of their critical IT processes. Centerity's automated topology and dependency maps recognize problems across the entire IT environment which is a critical information for improving service levels and customers satisfaction.
ISC will provide support to accelerate the integration of Centerity solution and its added-value services into large and medium-sized businesses through enterprise-level engagements in Italy. Leonardo Rossiello, CEO of ISC: "ISC has always been at the forefront in developing and strengthening partnerships and trade agreements aimed at broadening supply and creating new exciting opportunities. That is why we have been very enthusiastic about the agreement with Centerity, so that it can be located in Italy by expanding its market, relying on ISC support firmly on their side in this ambitious journey".
Antonio Martino, partner ar ISC: "Partnership with Centerity is a mutual opportunity. Centerity will rely on the strong foundation of an IT company like ISC, well-established in the Italian market, on the other hand ISC, it may increase the expectations of developing its services".
Matan Reiman, VP Sales, EMEA of Centerity said, "Centerity is pleased to embrace ISC as a partner as part of our ongoing process of expansion in the Italian market. ISC brings added value and new opportunities in new segments in the Italian market. Reiman continued, "Our joined target is to deep Centerity awareness in Italy. I'm sure our partnership with ISC will allow companies to improve SLA and improve their IT performance".
Marty Pejko, COO of Centerity congratulated the new partnership and said: "Centerity's customers regularly report reduced downtime, faster mean-time-to-repair (MTTR), and fewer no-trouble-found (NTF) and false positive service calls. As a result, these companies are experiencing better service level agreement (SLA) performance, increased quality, and higher customer satisfaction".
Media contact information:
Dalia Perl Olshvang, Marketing Manager
T: +1 (617)-4311959
E: [email protected]
https://www.centerity.com/wp-content/uploads/2017/11/Centerity-ISC-2.png
480
672
Marty Pejko
https://www.centerity.com/wp-content/uploads/2020/12/Centerity-Logo-test.png
Marty Pejko
2017-11-06 16:24:49
2017-11-06 16:24:49
Centerity signed ISC group as new reseller in Italy