You've heard the usual spiel on Centerity Systems, Inc. That it's a next-gen, unified monitoring platform provider for an organization's entire application and IT infrastructure layers. That Centerity can provide end-to-end coverage of complex, hybrid environments. Environments include physical, virtual, application and cloud assets. We do it all while providing a Business Service Management (BSM), End-User Experience (EUX), and Big Data Full Stack Coverage (SAP HANA, Hadoop, NoSQL, Oracle) in a single software appliance. But did you know that Centerity is also a part of the IoT world?
IoT, Internet of Things, refers to the ever-growing network of physical objects that feature an IP address for internet connectivity. IoT is the communication that occurs between connected objects and other internet-enabled devices and systems.
Centerity can take control of, start/stop, reboot, tune/adjust, and re-configure things remotely and/or automatically in order to optimize service delivery. To minimize costs, Centerity can turn off unnecessary units during non-peak hours or turn on units during hours of unanticipated demand. For automated actions, execute pre-definite scripts based on systemic performance.
Be able to control passive equipment over a range of protocols and interfaces. Such as SNMP (MIB), SNMP traps, RS232, and Modbus. Be able to holistically monitor passive with active equipment. Which allows operations to standardize around a single platform and correlate all vital metrics via a simple unified platform approach.
Centerity can simplify the management of your IoT environment. Not only by reporting performance metrics on individual things but more importantly the systemic performance on all things collectively!
Our software monitors the IP addresses of equipment such as communication, oil and gas infrastructure, security cameras, and door locks to name a few. Centerity can monitor classic data center passive equipment like CRAC, HVAC, UPS, and PDU units. Due to the breadth of this coverage and our ability to normalize this data into ordered views, we can perform cross-domain correlation and impact analysis to provide analytics on overall systemic health, performance, and service availability. If there's an IP address, we can monitor it! Let us relieve you of the stress of always checking the equipment physically with our comprehensive monitoring software platform. You can view it all on a single pane of glass without the need to manually collect or correlate individual unit or systemic performances.
Interested in more information? View more of Centerity's solution for IoT/IIot
Download IoT/IIoT Solution Solution Brief from Centerity Resources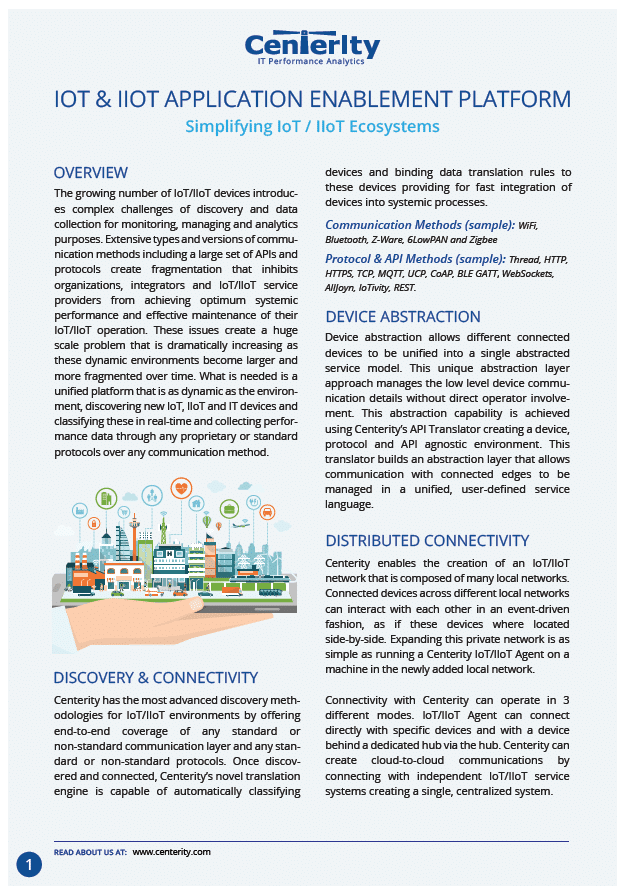 About Centerity
Centerity's an award winning unified enterprise-class IT Performance Analytics Platform that improves Performance and Reliability of business services to ensure availability of critical systems. By delivering a consolidated view across all layers of the technology stack, including, applications, big data, operating systems, database, storage, compute, security, networking, cloud, edge AND IoT/IIoT devices, Centerity provides an early warning of performance issues along with corrective action tools to quickly isolate faults and identify root causes.
https://www.centerity.com/wp-content/uploads/2021/02/Centerity-dash-on-computer-730-x-480_0006_Layer-9.jpg
800
1200
Marty Pejko
https://www.centerity.com/wp-content/uploads/2022/01/Centerity-Logo-1.png
Marty Pejko
2016-06-28 16:20:13
2021-02-26 13:33:17
Centerity Performance Analytics and IoT